Q&A: Harry AA on The Influencer Games + Social Media Tips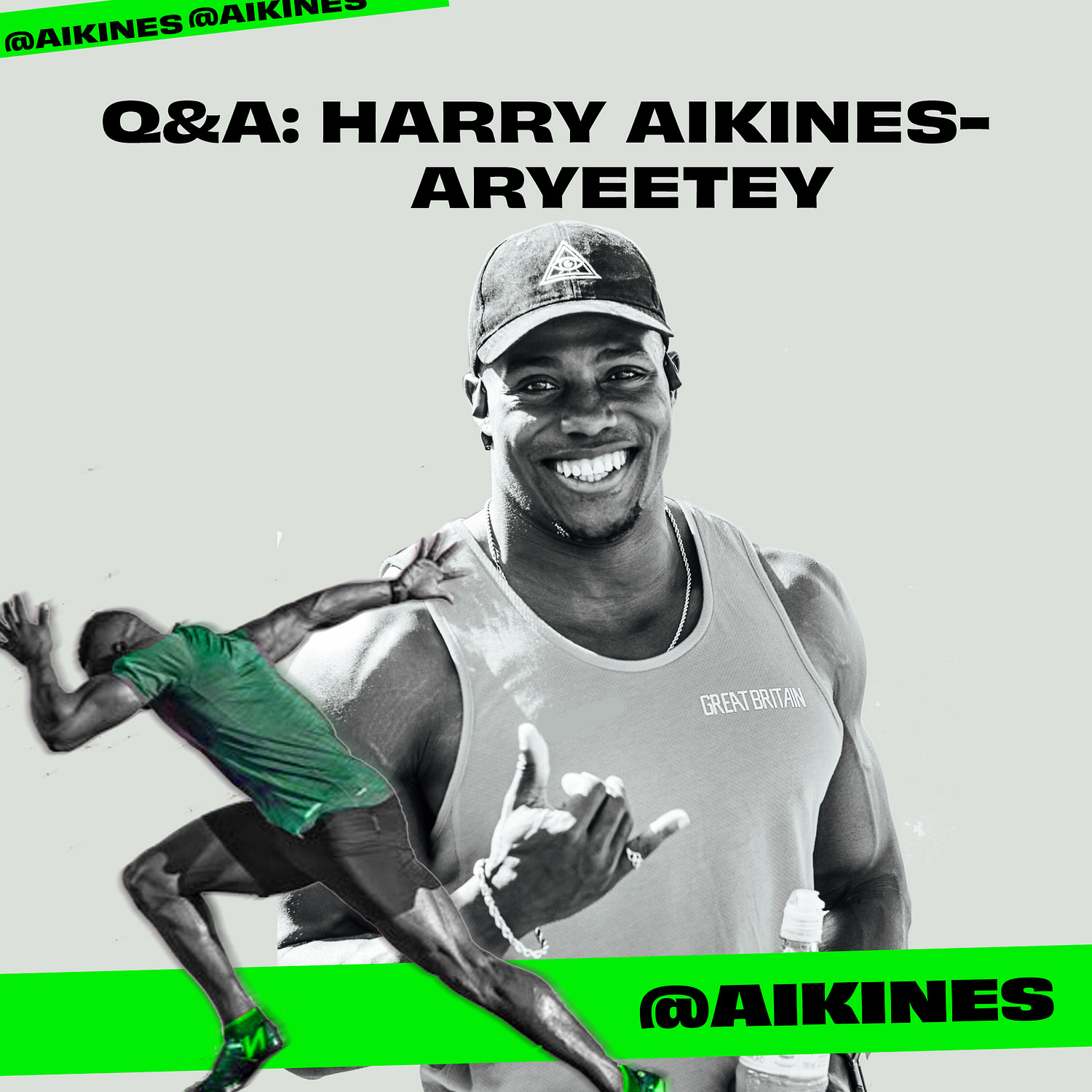 Founded by World, European and Commonwealth Games Sprint Medalist, Harry Aikines-Aryeetey. The inaugural Influencer Games, took place on the 17th of August, starring a fitness influencer line up with a combined following of 4.3 million.
Competing at Battersea Park Stadium were the likes of content creator Paul Olima, Ex-Pro Rugby Player Dan Tai, and athlete and Love Island star Theo Campbell
The influencers battled against Aikines-Aryeetey in classic events such the 60m, 150m, standing long jump and vertical jump.
Harry gathered support from New Balance, who kitted out the influencers with spikes and trainers and each influencer was provided with massage equipment + physiotherapy by @ElliotBMassage to prevent any injuries on an action-packed day.
@EyesToPixels captured photos of the event and GB Sprinter Rechmial Miller also covered the event by video which will be out soon!
Olympic Sprinter Harry Aikines-Aryeetey speaks to Threepointstart about creating The first-ever Influencer Games and offers his Top three social media tips.
What are The Influencer Games?
The Influencer Games is basically a bunch of lads coming together to go toe to toe and show what they're worth.
We are all in some ways influencers, whether you've got a thousand followers or a million followers. We influence people all around us.
Whether you've been on Love Island, Ex on the beach or the Olympic Games, we are all huge fans of fitness, I wanted to bring us together and see what happens. 
How did the idea come about?
I've always wanted to put something like this together. When you're an athlete, you are always down for a challenge. It doesn't matter what event you do you're always down to try something.
I've always wanted to do a bit of cross fit and I've always been up for seeing who can jump the highest, those sorts of things.
Some of the influencers often say they're quite quick, So I said: "okay, come lets race". One person wanted to get involved, then another person, so I set up a little group and said look, let's just do it!
I was there for credibility reasons more than anything else. Logan Paul did something similar last year after claiming he's the faster YouTuber. It's great, it gives a bit of attention to the sport.
I'm a true representative of track and field, I'm an Olympian, so it's more of a formality that I'm there.
I feel like your changing the game with athletics, so much of athletics coverage relies on TV, and the big events like the Olympics and world champs, but it's nice to have some other things in there, and involving the general public a bit more.
Of course, I appreciate it.
I hope to put on a female version as well. I think sometimes we've just got to do it ourselves, I find that a way to give our sport a bit of love and attention isn't to shy away from it and turn your back on it, but to actually bring some attention back to it.
I want to educate the masses. like if any of these guys break 7 seconds, or don't break 7 seconds. That's where I can say 'well look, Dina Asher-Smith will kick your ass' just giving an idea of actually how fast some of these amazing athletes are!
There are about 4.3 million followers between the influencers who took part in the games, it's just a great opportunity to educate people about athletics. We've all come from a terrible time with corona, so it was nice to have some competitive banter!
What are your top 3 social media tips for athletes?
#TIP 1
Understand who you are
We're not all the same, so for me to tell someone 'you've got to be an extrovert and be like me". No. You've got to find out what it is that you like and what you're happy to share.
What people need to understand is that if you're awkward, there are millions of other awkward people out there that will appreciate whatever you put out. if you're a shy person, there are millions of shy people that will appreciate or relate to what you're talking about or doing.
Just take the opportunity to not just think outside the box but within yourself.
Be comfortable with whatever you want to put out. 
#TIP 2
Never take yourself too seriously
Ultimately don't worry too much about what people think and what people care about, they're not the ones that are necessarily going to support you through your journey.
Never feel that you're putting something out that you're not happy with. Try and enjoy the process because you don't know who you're helping.
#TIP 3
Plan, Plan, Plan.
Plan ahead, I often talk to people, that say 'I've got nothing to post'. We do amazing things as athletes.
If you can take one or two clips, every training session, then you've got content. if you can take one picture everywhere you go, you've got content.
I always make a point of, I'm an athlete first, and an Instagrammer second. I wouldn't be an Instagrammer without my athletics, so that's always first.
I've always enjoyed photography, I've always wanted capture moments, I was always that annoying person because that comes easy to me, but for those who it doesn't, I'd just say try and think ahead. Think about where you are because you're doing something special!
Follow Harry on Social Media!