The Journey : Catherine Reid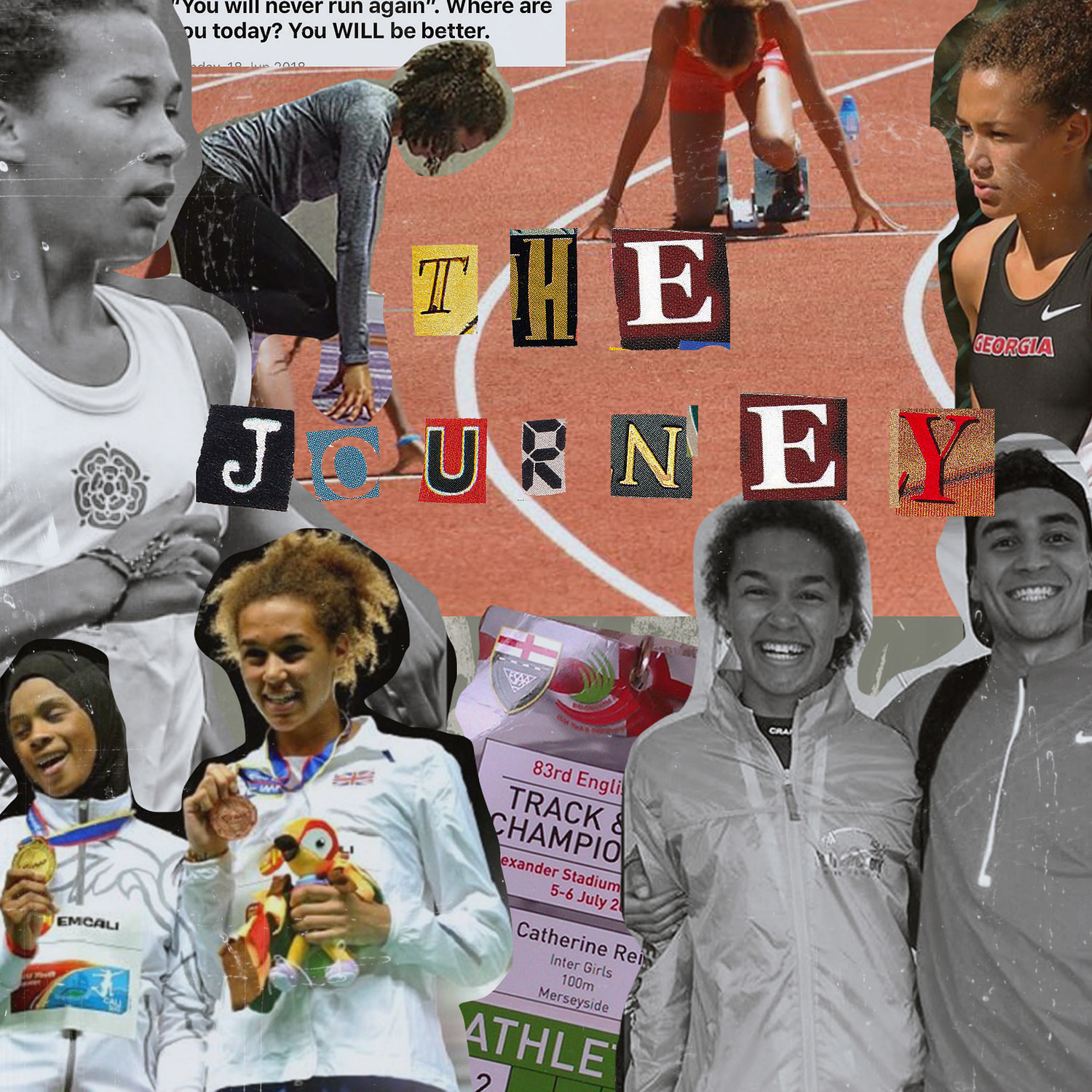 In 2018 a doctor told Catherine Reid, the World Youth 400m Bronze Medallist, that her injury was so severe that she wouldn't ever be able to run again. However, with help from a supportive family, an impromptu crowd-funding campaign, and belief in herself, she is now back running again and enjoying the process more than ever. This is the journey of Catherine Reid, and how she succeeded when the odds were against her.
Catherine grew up on the Isle of Man, a small close-knit island in the Irish Sea between Ireland and the UK, with a population of just over 84,000 people. She first started athletics in primary school, Catherine and her brother Joe ( who is also a GB Athlete specialising in the 800m) would win every sports day, going unbeaten every school year.
"The teachers said to my dad at sports day " You should really think about taking these two to an athletics club, there's one on a Wednesday night run by Manx Harriers. You should take them down and see how they get on."
At first Reid only went for the social aspect of it, the opportunity to meet kids from other primary schools was enough for her, but at the age of 11 with the help of coaches at Manx Athletics Club she wanted to take it further so began attending winter sessions and leaving the Island to compete.
Her first taste of accomplishment was at the 2014 English Schools Championships, Athletes from Isle of Man travelled down to Liverpool on a ferry and competed with the Merseyside county.
" I came second at the Merseyside schools, the person who won told me "I'm probably going to get the gold and you might be in top five". And I was like " Yeah, that would be lovely."
" I had been to English Schools the year before for the 100m but I came second to last out of all the heats. So I just wanted to do a little bit better than last year."
Catherine didn't just get "top five" she came away with a silver medal, and was on the podium again representing England at the Schools International. This gave her a lot more confidence going into the next year.
"In 2015 I did my first Island Games, which is a competition that the Isle of Man and loads of little islands get involved in. I came away with two Golds, and an Island Games record in the 400m.
"That was the first time that I realised that I had the potential to be an elite athlete. "
"I came away from that weekend with a World Youth Selection, and I thought I could really do something here. I could come away from World Youths with something."

Aiming high motivated Reid throughout her journey, she was constantly pushing on what she believed could be possible. Catherine was determined to make the Isle of Man proud whilst competing against the best under 18s on the planet at the World Youth Championships.
"I travelled to Colombia from the island thinking " Oh I just want to qualify for the semi-final." And then two days in I thought "No… I want to make the final" The next day I thought " I'd quite like to be Top Five." and then I thought " I really want a medal."
"I remember sitting in the Physio room with Stu (Stuart Butler), Hannah (Hannah Williams) and Rech (Rechmial Miller) . Rech had won a Bronze, I said to him " Oh I'd love to get a medal" and then he just turned around to me and said " Well then get one." And I was like " Okay." thanks for the advice Rech."
Catherine made her way through the rounds and qualified for the final alongside one of her best friends Hannah Williams.
"When I was setting up my blocks all I was thinking was that I was just going to give it my best, I didn't know what to expect."
"It was such a tight finish between me and the Canadian girl. When I had crossed the line Hannah said "Oh you've got a medal" and I said " Oh no I haven't" We waited for the results to come up on the score board. Then we realised we were looking at the wrong scoreboard, it was off.
"I turned to the crowd and the whole team was like "Catherine, you've got bronze" That was the first time when I thought… this is what I'm meant to be doing. This is what I want to centre my life towards."

After her achievements at World Youth's Catherine was sought after by American universities and offered full scholarships.
"Being from the Isle of Man even going to University in England, Scotland or Wales seems like a big step… I know everyone in my town, you can literally walk from one side of it to another in ten minutes. So to decide I was going to move away to America, it was so draughting but I felt like It was what I needed to do."
"Moving to Georgia was surreal, it felt just like the movies with the sororities and the frats. I found my feet quite quickly there because the staff saw how serious I was so they were very supportive. One of the perks of being on an American sports team is that you don't have to worry about finding friends because you're put with a massive group of people."
"However my injury had flaired up quite a lot, so I was out of action for many months, when I slowly was able to start running again and I was placed on the team for next competition. My competitions out there were shocking. By the last competition I did I basically limped over the line."
As Catherine's knee injury worsened she was barely able to compete at all.
"I was asked to come and watch, I was in a knee-brace. They said bring your kit and spikes just incase, someone might forget a vest. We went to the track for a warm up session and the physio's asked me to walk around without a knee brace, I said it feels alright walking so they were like " okay get your spikes on and go and warm up, were hoping we can run you in the relay."
"This is what I've told people who have reached out to me about applying to colleges in the US. Im sure anyone who is in the US system and plagued with injury would say the same thing."
"At the end of the day you are a massive investment to the University, so they want to get their money's worth out of you, I think they could see that my morale was dipping I think they thought let's just run her and see if she can produce anything at all."
"At that point I decided that staying in the US wasn't in my best interest. I cared about longevity. It's not a four year thing for me, it's the rest of my life."
When Catherine returned back to the Isle of Man, she decided to visit some top surgeons to see what they made of her injury and if it could be fixed.
"We went to a clinic in London to go and see a surgeon, we had a couple of X-rays, and the doctor made me do some exercises then he said "Catherine I think its bad news. I don't think you're ever going to be able to run again. I would feel awful if you left this office thinking you're ever going to lace up your spikes again so you need to tell me you're done with this and I thought "no I'm absolutely not."
Not satisfied with that answer, Reid asked the surgeon if she could have a second opinion. She was put in touch with another surgeon, who didn't make any guarentees that she would get back to elite level, but gave her the peace of mind that after the surgery she would have a healthy and active lifestyle.
The overall cost of the surgery Reid needed to get was around £12,000, and she needed to get this amount in six days as the clinic was booked up with appointments.
"I was so lucky to be supported by Isle of Man Sports Aid and a couple of other local companies, but I knew they weren't going to be able to just hand me £12,000."
" I had a meeting with Iom sport with a rough idea to do a GoFundMe for my surgery. Chris from Iom sport asked me " Do you think you'll get anything?" and I said " Even if I raise £500, that's £500 which we don't have to find."
The crowd fund raised a lot more than £500. In two days it had reached £8500.
" I was sat at work and my colleagues would be checking it saying " Sandra from Douglas has donated, and your friend Erica has just donated and I was just crying."
" As this was three years after World Youths I thought that people wouldn't care and think I was just this washed-up athlete but to have all of that support was absolutely insane."
After the surgery Catherine had to relearn how to walk and then run again, the progress was slow and there were times when she was emotional and felt like giving up but she managed to rehab and get stronger.
Most importantly she proved that doctor wrong as she is now back running, and training with Glyn Hawkes in Loughborough and is still as determined as ever.
"The first major medal I win I will dedicate it to the doctor who said I wouldn't run again, and say "this is for you!"
Outside of training Catherine is now working with PocIom, which is for people of all ethnicities to come together and have healthy conversations surrounding racism and help educate people on the Island. The Isle of man isn't very diverse so the platform seeks to give exposure to these important issues.
Check out Catherine Reid's Social Media @CoobReid to follow the rest of her journey, which I'm sure is going to be incredible.