Imani Lansiquot: From King's Hospital to King's College London
Imani Lansiquot was born in King's Hospital, London, and since the age of five she's had a passion for psychology and a goal of studying at King's College London. Fast forward and 22-year old Lansiquot has now completed her degree in Psychology at King's College London, as well as becoming European Gold Medallist and the 4th fastest woman in British history.
"In school, they were desperate for me to apply for Oxford and Cambridge, but my heart was set on King's. I was going to study anything along as long as it was at King's."
"I wanted to study psychology at King's College London but they never had it as a degree until the year before I came!"
Imani's dissertation looked at how the use of jargon and expert opinions affected how much people value information.
" I thought that if I presented information with an expert in it and technical words, people were going to believe it more, but I actually found the opposite."
Her research showed that when people see facts and technical jargon alongside subjects such as maths and science, they value it more, but not as much with topics such as social psychology. With the COVID 19 pandemic, information from experts was valued and sought after.
"As things were kicking in with lockdown, I was really getting into the crux of my dissertation. People had no idea about the virus, so everyone was a novice. Any information that was coming out literally felt like Bible."
"All these WhatsApp threads were coming out and people were believing it, new language was introduced with words such as furlough and social distancing."
"There were so many conflicting pieces of information, and everyone was scared because of the roles that were assumed such as a scientist or "my sister's boyfriend works for the police." We were so quick to believe them as we didn't know the information ourselves."
Analysing human behaviour intrigued Lansiquot, with her love for subjects such as English and History at school, she wanted to utilise her creativity and ideas. However, her degree was different from how she expected.
"When I studied psychology at A-level it was very social, all about human behaviour. But 2/3rds of what I did in my degree was science and maths which was difficult, but it's been good for me to get a balance.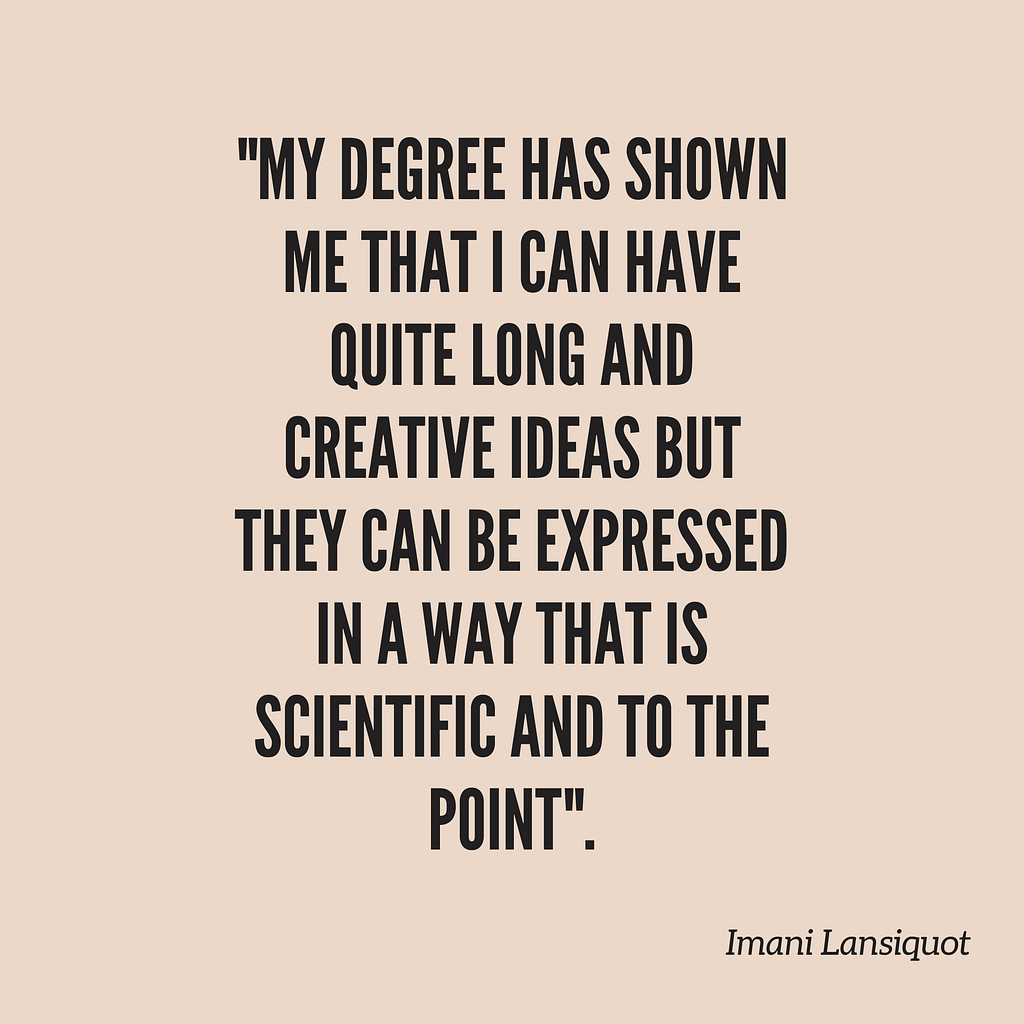 Imani often uses her degree to reflect on both the sports community and herself.
"In one sense everyone is an expert in sport because everyone supports the football club or wants Team GB to win. They tune into sport quite a lot, so they have a level of expertise in it.
But on the flip side, no one really knows what it's like to be an elite athlete, so there is this fascination with it and this information that they don't have. It's a real mixture."
It's really integral that sports journalists put out information. Jargon does have a role but it is important that the information is there too.
A really good thing about football is that literally every day of the week, even in lockdown, there was information about it. We are constantly being fed it so we're going to believe it.
Studying psychology as an athlete is an interesting dynamic, as sports can be as much mental as it is physical.
"It makes you very self-aware and introspective, which is a good thing in a way. I'm quite aware of who I am and what my strengths and weaknesses are. But the degree does make you overthink that kind of stuff.
Lansiquot received help and support for her degree from her partner Ojie Edoborun, who is also a top British sprinter.
"Making priority lists helped me with managing my time. Ojie really helped me with this. I would be giving everything 100% of my stress and worry."
"When I verbalised this and said it out loud, he'd be like "there are only two things on this list that you need to worry about. If you have five assignments due and 10 training sessions to do, you need to prioritise which one is coming first and which session is happening next."
Lansiquot reflected on the difficulty of balancing student life with academics and offers some advice for those who are going down the same path.
"When you're in something that's difficult you don't really think about it and when I came to the end of my degree I thought how did I do that?"
I think for anyone who is looking to do this, you have to accept that it's going to be difficult.
When I first started I thought, "If I work out my day minute by minute, there's going to be no problem. But it's not always that straight forward, it can be hard. You have to make realistic plans. You almost have to undersell and over perform, It's important to give yourself a lot of time to rest and recover and then you'll have the energy to do the important stuff"
Imani has recently been appointed the Athlete Lead for diversity and inclusion within British Athletics and will definitely be a part of a positive change, with her drive and motivation she will achieve great things and inspire the next generation!
To find out more about Imani check out her social media: @ImaniLara